One thing we like about Twitter is the ease of expressing our thoughts, opinions, and witty remarks in a single thread. With Instagram? The reverse was the case. Instagram has evolved from being just a photo-sharing app to a thriving marketplace. With over 200 million businesses on Instagram, it's no secret that you can leverage the engagement and traffic on your page to sell your products and services.
However, for businesses that prefer textual content, you either have to create a carousel of ten visuals to express your thoughts. Or you're left with no choice but to shrink your words to fit the ideal limit for captions. Or better still, create multiple posts for one topic (if you have a lot to say).
Thankfully, Instagram has launched a text-based app – Threads. With Threads, individuals and businesses can now use texts to express their opinions, share valuable insights, and ignite meaningful discussions in one thread. Just like Twitter, but for Instagram.
In this blog post, we'll explore all you need to know about Instagram Threads: features, benefits, and why you should take advantage of the trend for your business. Let's get to it.

What is Instagram Threads?
Instagram Threads is a standalone messaging app developed by Instagram. While Instagram is mainly known for sharing photos and videos, Threads takes it further by focusing on text updates. It provides a separate space where users can share real-time updates and have public conversations. With Instagram Threads, you can write posts up to 500 characters long and include links, photos, and videos for up to 5 minutes.
The Buzz About Instagram Threads
According to a report by The Verge, Chris Cox, the Chief Product Officer at Meta, referred to Threads as "our response to Twitter" during a company-wide meeting in June. He expressed that public figures and creators demand a platform that is sanely run and provides a conducive environment for their content.
Also, recall that sometime in June, Mario Nawfal tweeted about Instagram launching a Twitter rival app – Thread. Interestingly, Elon tweeted that he was up for a cage fight if he (Mark) was ready.

In response, Mark posted a screenshot of Elon's tweet on his Instagram story with the caption, "Send me Location."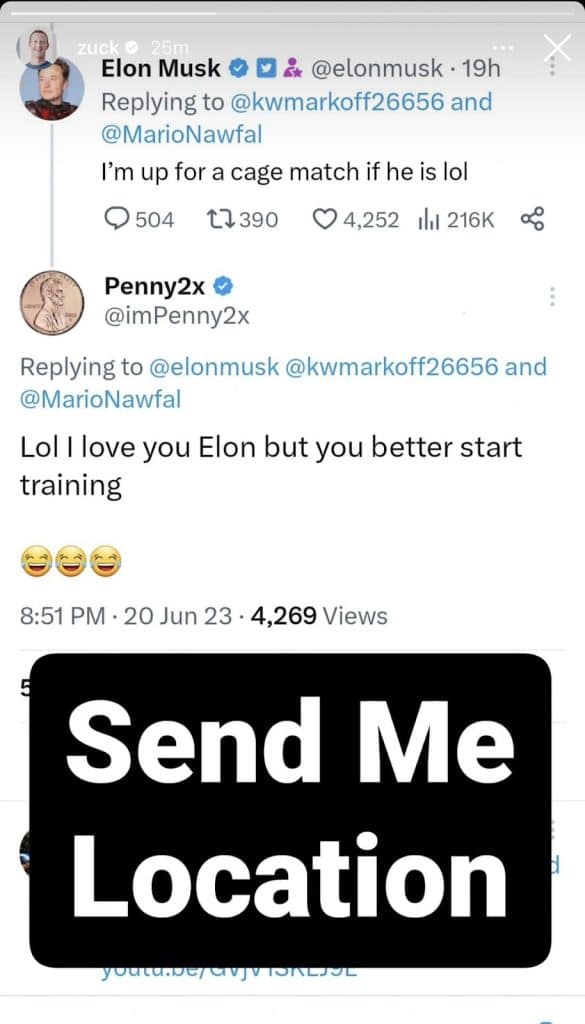 This notable banter between Elon Musk, the CEO of Tesla and SpaceX, and Mark Zuckerberg, the co-founder of Facebook and Instagram, further fueled the excitement surrounding this new platform. The launch of Instagram Threads sparked a social media frenzy, capturing the attention of millions worldwide.
In less than 48 hours, it amassed over 30 million downloads. The app has over 98 million users across IOS and Android devices, which is a big deal. To provide some context, it took Facebook 852 days to reach 10 million users, whereas Twitter achieved the same milestone in a slightly shorter span of 780 days.
The platform gained significant traction by leveraging its existing user base from Instagram. Renowned celebrities have also embraced Threads, strengthening its credibility and popularity. That said, if you're a business wanting to expand your online presence, now is the time to join the Threads trend.
Secure your business name, embrace the power of text-based content, and start engaging with your audience in meaningful conversations.
How Can You Set Up Your Threads Profile?
Download the Threads app on your mobile device.
Ensure you're logged in to your business's Instagram account on the same device.
Open the Threads app and select the "Log in with Instagram" option.
Choose "Import from Instagram" on the Profile screen and make any necessary changes. Then, click "Next."
Opt for a "Public profile" for your business to maximize visibility, and click "Next."
Send a "Follow" request to your Instagram followers. You can also follow the same accounts you're currently following on Instagram (we recommend doing so!).
Click "Join Threads" on the next screen, and you're ready.
Why Should You Use Thread For Your Business?
Just like Instagram, its sister app, Thread offers the following benefits for businesses:
1. Boost Brand Visibility
Threads offer a remarkable opportunity for businesses to elevate their brand's visibility. By sharing updates on products, services, and company news, startups can create a strong presence and increase brand awareness. This enhanced visibility gives businesses a competitive advantage, influencing customer decisions and standing out among competitors. Now is an ideal time to leverage Threads while the platform gains momentum.
2. Customer Engagement
Customer engagement is a cornerstone for business success, and Threads provides an ideal platform for building connections. By engaging with customers on their preferred social media channels, brands can forge meaningful relationships and foster brand loyalty. It's an opportunity to interact with customers, understand their needs, and build a strong rapport beyond mere transactions.
3. Leverage Market Research Insights
Social media provides businesses with a treasure trove of market research insights, and Thread is no different. By monitoring conversations on the platform and competitor activities, brands can gain invaluable information that might have been overlooked. These insights can highlight consumer pain points, drive product or service improvements, and uncover new market opportunities.
4. Networking and Partnerships
Collaborations with like-minded businesses and influencers can unlock mutual growth and enable businesses to leverage each other's audiences. By identifying the right users and forging meaningful relationships on the Thread app, brands can explore partnership possibilities, amplify their reach, and create impactful promotional opportunities.
Instagram Threads provides a dedicated space for users to share their opinions, insights, and stories in a seamless and comprehensive thread. However, creating compelling content that resonates with the target audience is crucial for effective engagement on Threads.
This is where Whirlspot media comes in. At WhirlSpot Media, we understand that powerful content is the key to successful brand promotion. Therefore, we take the time to understand our clients' businesses, target audiences, and goals to enable us to craft content that tells their unique stories.
Contact Whirlspot Media, and let us help you grow your business with impactful storytelling and media visibility. We Speak Africa!