In Africa over the past decade, there has been massive growth in the Fintech sector with an average CAGR of 24%. Nigeria, Kenya, South Africa and Egypt remain the primary investment destinations for fintech and payments sectors in Africa. These four countries are at the forefront, driving Africa's push to become a global fintech hub for startups. The Emerging Markets of Africa is proving to be a good place for financial technology (FinTech) to disrupt the financial services industry. 
The region's fintech has also enjoyed fast-growing acquisition activity and mega-deals, with international companies including Branch, Tala, World Remit, Visa Inc, Network International Holdings Plc and Stripe Inc. growing their interests in the region, demonstrating the sector's strength, despite the COVID-19 pandemic.
Africa as a continent has a young and growing population of more than 1.3 billion people and a GDP worth $2.5 trillion and more than 300 million unbanked African adults account for 17% of the world's unbanked population. However, with the growing large bulges of digitally savvy youth, lack of financial inclusion, high levels of mobile adoption hence, the growing demand for new financial products and services. This has also led to the widespread adoption of these services.

COVID-19's impact on the fintech industry will be felt for years to come. Around the globe, brands and companies are having to retool their go-to-market strategy to meet the evolving needs of the COVID and post-COVID consumer.
With so many new players now in the fintech market, driving marketing that stands out from the crowd is of the essence and this should be rooted in consumer trust.  
Here are marketing approaches you can use to launch your own marketing strategy as a FinTech brand. 
Determine your Objective
Not all marketing campaigns or FinTech brands serve the same purpose. Before creating a go-to-market strategy for your brand, consider what you ultimately want to achieve with your marketing and business efforts. A well-defined strategy will help you identify the right marketing strategy and who your target audience is and define the right channel to connect with them. 
For example, for a B2B fintech startup, LinkedIn will definitely play a very vital role in their channel strategy other social channels would. With LinkedIn, you have the opportunity to target a quality audience in a professional context. You can also easily market to key decision-makers, C-level executives, investors and executives who act on new opportunities.
Write and publish educational content regularly
Are you producing content for your website in the form of blog posts, whitepapers, guides, or videos? If not, it's time to start.
Businesses that actively blog have

434%

more indexed pages on Google,

55%

more visitors, and

97%

more inbound links. (HubSpot)

80%

of business decision-makers prefer to get company information from a series of articles versus an advertisement. (B2B PR Sense)

95% of buyers are willing to share their name, company and email address in return for content. (Demand Gen Report)
Your brand will benefit by producing content that educates your target audience. It's important to answer their questions through your content and explain how your product solves some of your target market's problems and aid them in making smart decisions. You have to be committed to selflessly providing value, or else all your efforts will only get mediocre results. Your content doesn't have to be hyper-focused on your brand, but it should be relevant to your industry and what your leads are interested in, most importantly to help you create top of mind awareness in the industry. Your content should also be specific to the needs and challenges of your users. 
Unlock Your Growth with Trust Signals
Every business needs trust signals. Without them, you can expect low conversion rates. According to studies, 72% of consumers trust online reviews as much as personal recommendations (Local Consumer Review Survey, 2012).  "The new currency of competition is trust," Randy Illig said in a Forbes article.
What Are Trust Signals?
Trust signals, put simply, are elements or qualities that are often displayed on websites, online, or offline to help or inspire customers to feel more secure in their decision to patronize a specific business or buy a specific product or service. Trust is what allows a customer to go from visitor to buyer. A user needs to trust a brand in order to buy from the site. 
On a sincere note, people buy from brands they trust, thus the ultimate objective of your brand strategy should be to create a trusted brand or product.  
Newer generations are rapidly moving away from previous financial mainstays and putting their trust in fintech. As a result, fintech is a booming industry. If your target users are key financial decision-makers or the unbanked, underbanked, trust is a big deal if you want to gain their attention. Creating content that demonstrates or positions you as a regulated entity can go a long way to developing credibility and speeding up your sales cycle.
Why Trust Is Fundamental for Fintech
I believe trust is the most fundamental element of all relationships and transactions in the financial services sector. And in fact, without trust, a fintech brand is likely to fail.
When your visitors browse the website and see a testimonial from a customer who is a prominent figure or a credible brand, that's great social proof. 
Of all the types of trust signals, social proof is probably the most powerful. One reason for this is because people tend to trust the recommendations of friends and family more than any other source. Ensure that your trust signals are visible across your website, social media channels, and the stories you choose to tell in the press.
Overall, for your FinTech business to succeed in this ever-expanding industry, you cannot rely simply on a superior product or user experience. You have to be trustworthy. Trust is key, while content is still king.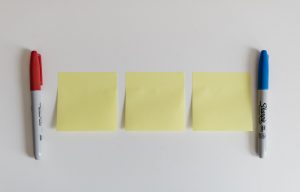 Understand Your Audience 
Before you start your user engagement projects, make sure you understand who your target audience is. 
How do I identify my target audience?
Customer experience is one of the most important success factors for any FinTech business. That's why it's essential to focus on what information your ideal buyer is seeking before you can start attracting them with valuable and relevant content.  
To identify your FinTech audience, you need to:
Know your customer?
Who are you attracting? Understand what channels your customers use. Do they live on Facebook or Twitter? Identify your competitors: Which companies do you most want to resemble? Benchmark your competition? How can you capitalise on the weaknesses of your competitors?
Rather than trying to reach everyone in the market, appeal to your niche and the value of your product/service will become much clearer to those who need it. 
What are buyer personas?
Who are they?
What is their job?
What are their primary pain points?
What do they value most and what are their goals?
Where do they go for information?
What's important to them in selecting a vendor?
What are their most common objections?
Once you understand the ways in which you can help your buyers solve an issue or achieve a goal, you can effectively start attracting your audience with valuable content that answers their questions.
Make the most out of social media platforms
Social media is not only a great marketing platform but is also a suitable channel for customer support. Almost all internet users have an account on one or more social media platforms. Social media platforms allow you to target your audience more effectively and optimize your campaigns. You can personalize your marketing campaigns for different demographics and improve customer engagement. If you see, social media is also a great way to share existing blogs, FAQs, how-to videos, and more. It will not only market your product but will also show how effortless it is to use them.
Grow brand awareness 
Finally, while the capability is there for many emerging fintech brands to offer the same services as industry leaders, the challenge is in reaching potential customers and gaining a foothold in the market with low or no sort of awareness when no one knows their name. Content marketing, especially strong thought leadership and earned media can launch new brands in the fintech market without having to match the established powerhouses dollar for dollar in advertising.
Now that you've learned these few ways to position your Fintech company and improve your marketing plan, you just need the time and resources to test them out for your company.
If you'd like assistance, WhirlSpot can help! 
Want to know how we can increase your company's exposure online or help you drive growth?
We can help your brand use growth marketing initiatives to gain awareness, generate leads and build trust in your target market. Just contact us to learn about our PR and marketing services and for a free strategy call. We can't wait to hear from you!